D-LEE: Total Badass
Cubs first baseman
Derrek Lee
is having just an insanely good season.
Today he went 4/4 with 2 Homers and 6 RBIs and carried the Cubs to a
8-7 comeback victory
over the Reds.
"He's just a total badasss."
says Corey Patterson,
"...he kind of reminds me of that dude from the movie ghost dog,"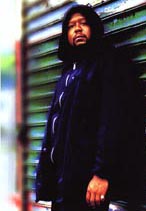 So far this season, Lee has gone 34/79 with 7 HR, 27 RBIs, and 4 Stolen Bases.
Here are his projected stats for 2005. They may be a little on the low side since Lee has historically been cold in the month April.
.430 Batting Average

54 Home Runs
208 Runs Batted In
31 Stolen Bases

146 Runs Scored
262 Hits
.500 On Base Percentage
.797 Slugging Percentage
_______________________
Latroy Hawkins was touched
to recieve a standing ovation from the crowd at Wrigley today after striking out 2 in a scoreless top of the 9th.
"I think they really care about me as a person," said the Cubs on -and-off closer who was booed off the field in his last outing.