I Can't Wait to See The Tarp at Yankee Stadium
I've been waiting for this for years. Tomorrow is the day I finally get to see the Chicago Cubs as they stare at tarp in Yankee Stadium. I get to put on my Mark Prior jersey, my cubs hat, (the road hat with the red brim) and hop across the Harlem river to see the tarp in person, as the Cubbies sit in the dugout and watch it with me.

I didn't know if I was going to get the opportunity untill I heard on the news that they are expecting severe thunderstorms tomorrow evening from about 6pm through 11 pm. It's a 7:00 game, that should allow a good 2 1/2 hours of tarp watching.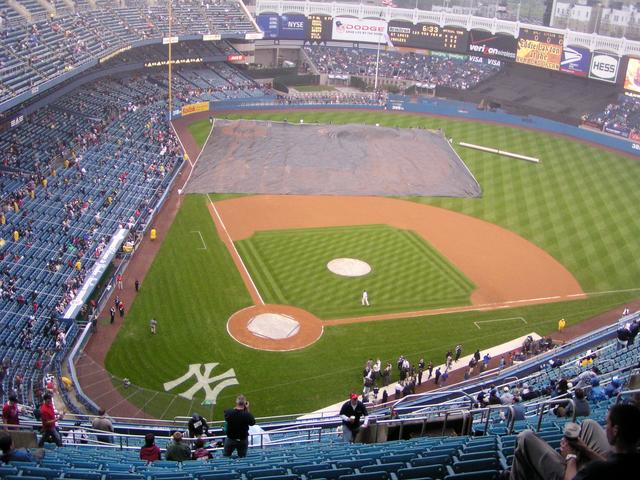 above:
t
he legendary tarp at Yankee Stadium being rolled out for another historic viewing.
Cubs players are excited about the opportunity as well. This will be the first time the Cubs have been to Yankee Stadium since the 1938 World Series, and the first time they have seen the tarp since 1932 .
"You think about the history of that ballpark, and all the great players who seen that tarp during rain delays...it's exciting" said manager Dusty Baker. "You are connecting with so much history even if you don't play any baseball at all!"

Right fielder Jeromy Burnitz added, "This is the same tarp that Joe DiMaggio used to stare blankly at...Mickey Mantle, Lou Gerhig...it's amazing. I can't wait to see the tarp myself."
______________________________________
Fri. 7:05 pm ET: Carlos Zambrano / Carl Pavano
Sat. 3:10 pm ET: Glendon Rusch / Chen Ming Wang

Sun. 1:05 pm ET: Sergio Mitre / Mike Mussina

cubs go down again in the bronx


(thanks for the caption forklift!)